Traveling on the Lines of Key West Legends

"Lip Balm!!!"
Rebecca Van Horn

Bob Liberman is the tour manager everyone needs to know. You're probably already familiar with his alias, "Lip Balm," a phrase frequently misquoted as "play ball" at the start of Jimmy Buffett's "Weather Is Here, Wish You Were Beautiful" on 1981's Coconut Telegraph. He's an all-around great human and just happens to have had a wild career with some of the biggest acts in American music.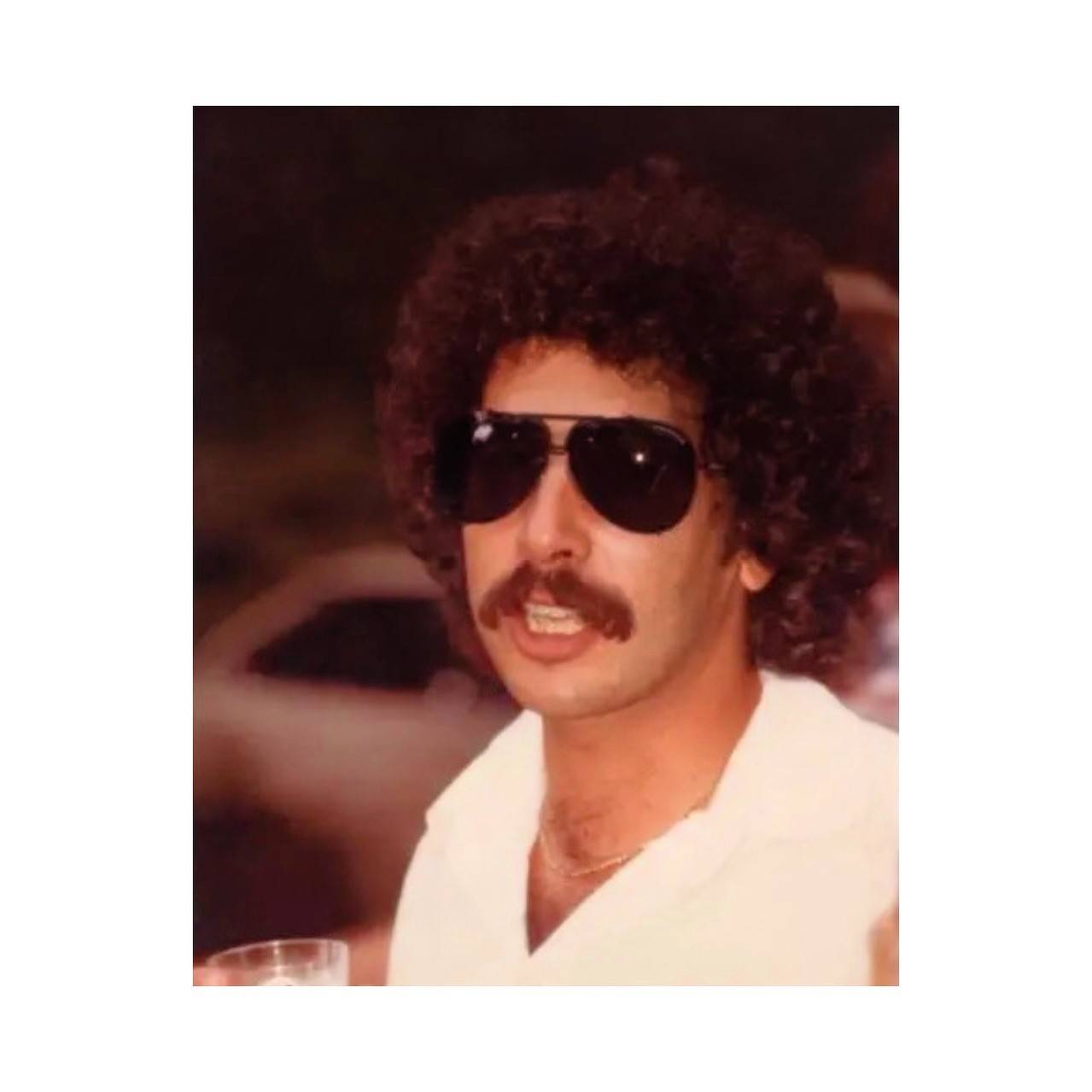 I met Bob for the first time at Gypsies '21 and he was kind enough to tell me a few stories from back in the day. My main job at Gypsies was to listen–just to hear the stories everyone could tell. Bob, in his characteristically witty way, was careful to hedge any expectations I may have formed about his own stories. As he frequently reminds the BTTI crew, "I'd tell ya more stories if I could just remember a goddamn thing about those tours–they were all a blur." But don't be fooled, those he does remember are certainly worth their salt.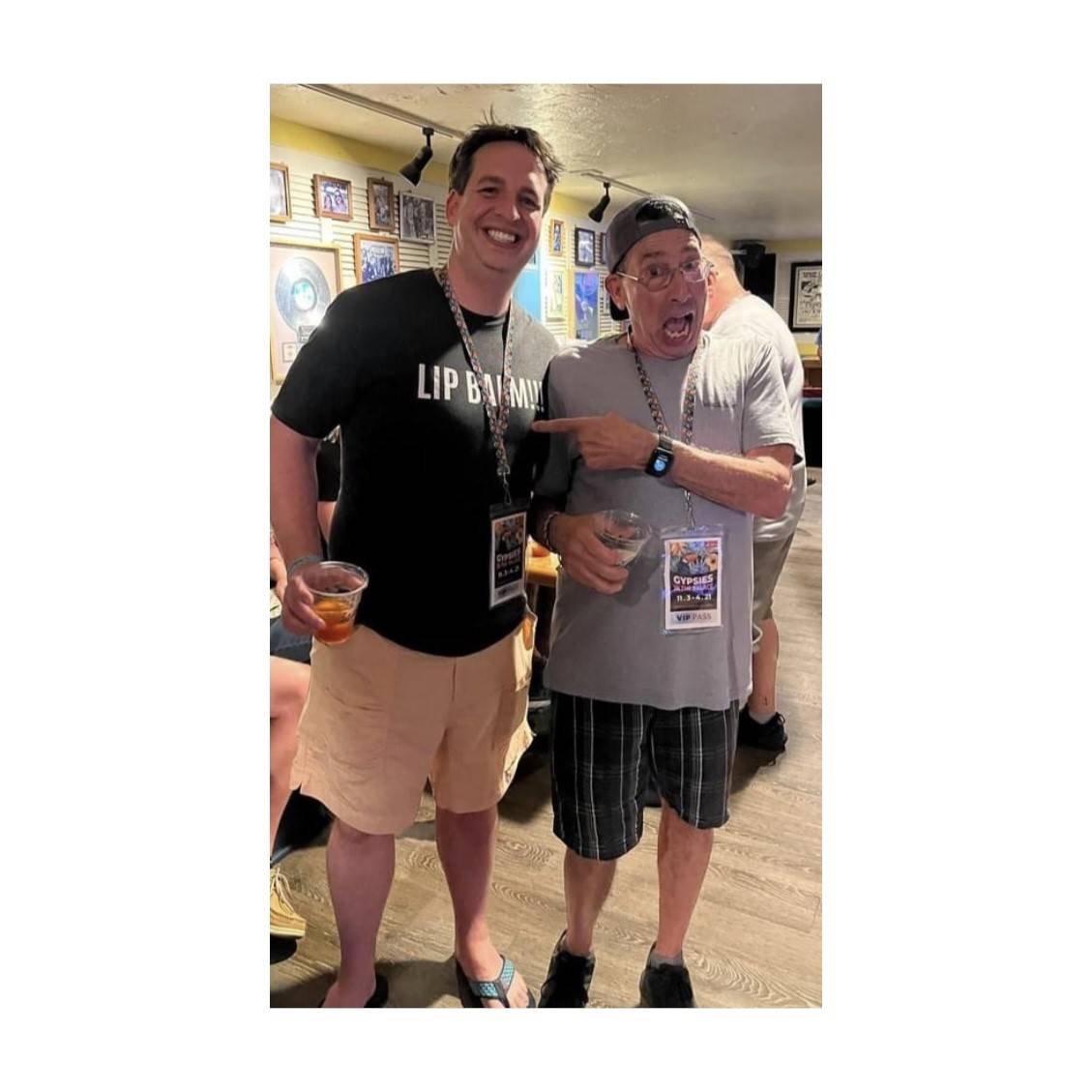 One such story took place on his tour with Bob Dylan. As Dylan fans can imagine, he wouldn't be thrilled by enthusiastic fans among his camp, so Liberman and the rest of the crew were given clear instructions: don't talk to Dylan. Sure enough, Liberman was minding his business and hanging up posters when Dylan walked over to him and started chatting. Bob froze and must have blacked out for fear of breaking one of the only unbreakable rules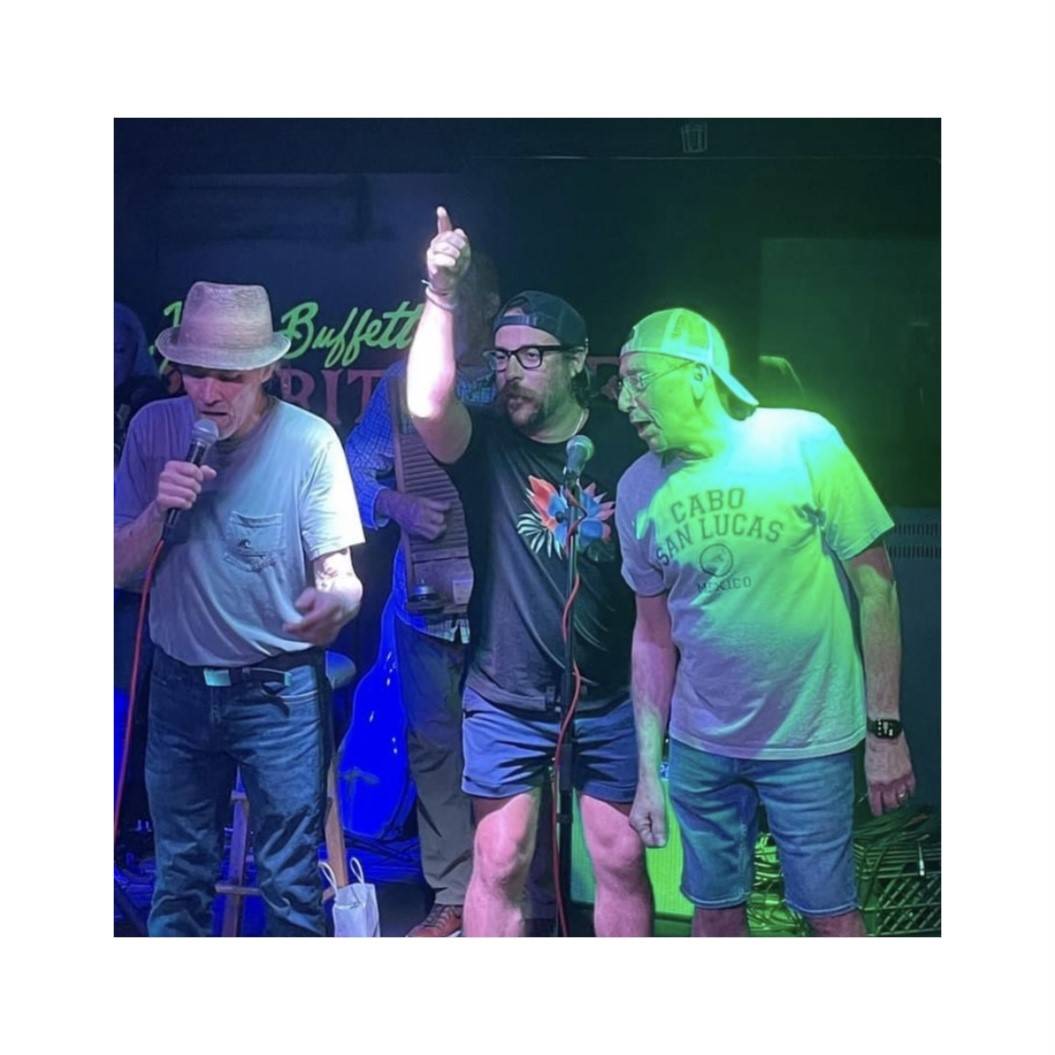 On tour with Jimmy Buffett in 1977 the vibe was certainly less chilly, but the temperatures at one particular Key West show were equally frigid. Bob recalls driving a truck loaded down with equipment from the University of Florida in Gainesville for a particularly brisk show in Mallory Square. The commute itself was unpleasant in windy conditions, but the show left Bob and the equipment so cold that the lights were actually stuck in place and wouldn't move toward the act on-stage. Bob clung to the lights for warmth and missed spotlighting Jimmy Buffett, but lived to tell another tale.
But Bob didn't just visit Key West on tour, he lived here about thirty years ago. I asked him whether he thought the place has changed since then, and I was expecting him to offer a perspective on booming tourism or skyrocketing housing values, but those didn't spring to mind for Bob. Instead, he replied, "I don't think it has changed all that much. There's a real desire to maintain the spirit and the history of the place." We at BTTI tend to agree with Bob, and we feel lucky to call him a friend in working together to do just that.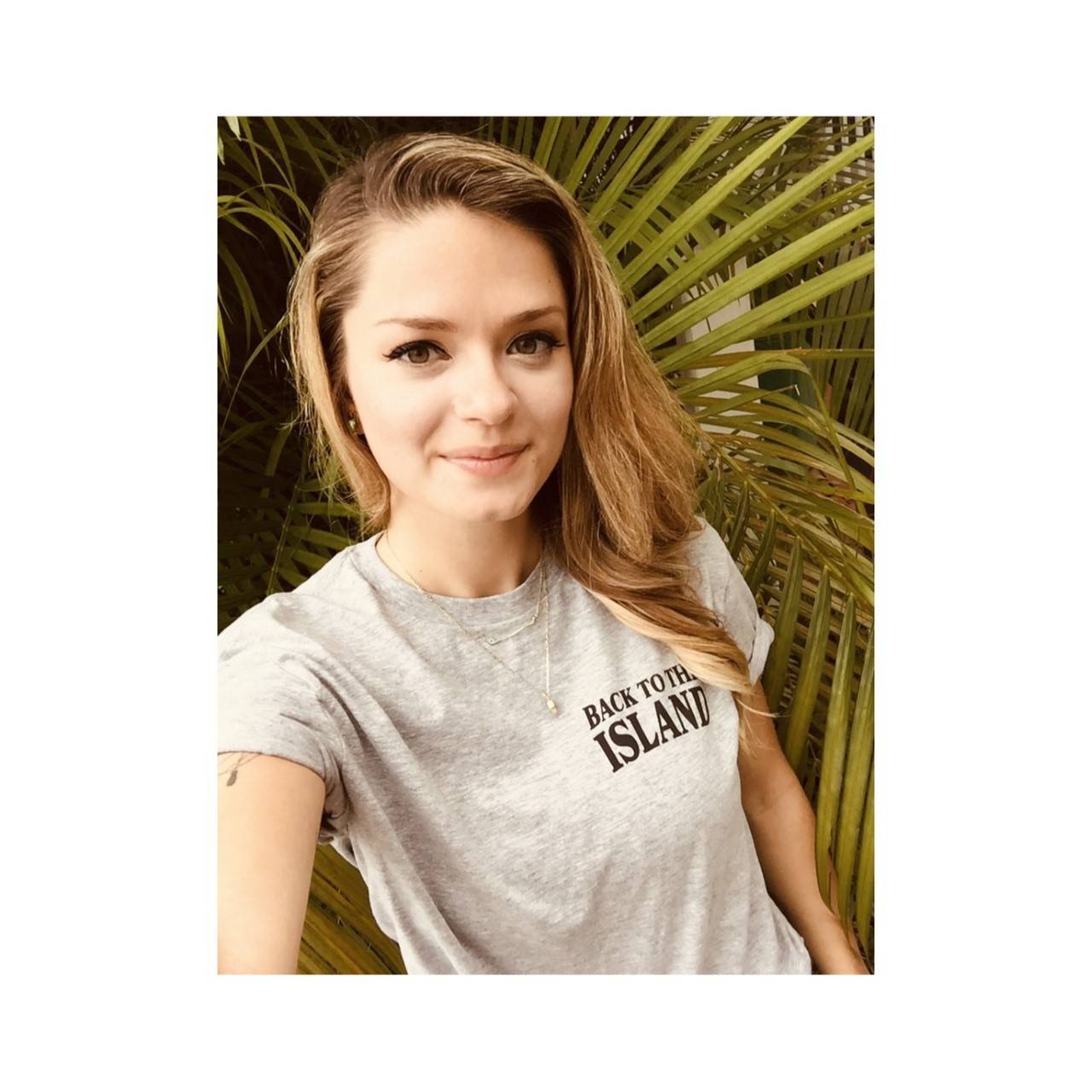 Cheer loudly enough when you see him at Gypsies '22 and everyone's favorite tour manager just might make an appearance in the spotlight himself! We'll see you there.
---
"Homegrown Peaches"
Rebecca Van Horn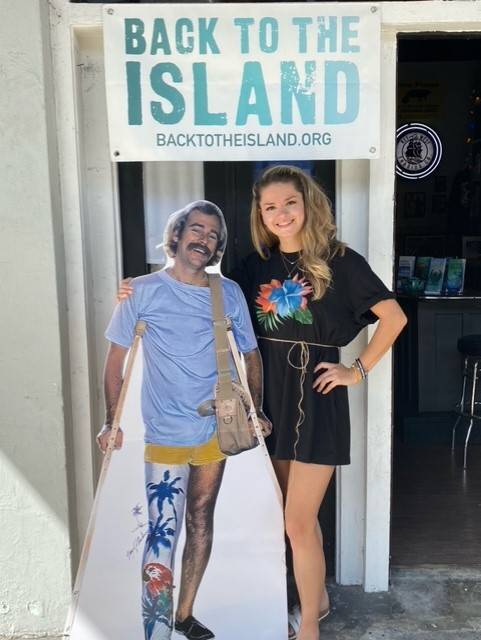 Guy Clark tells us "there's nothing a homegrown tomato can't cure." In gardening and in life, there's a real reward in tending to something as it grows and reaping the rewards as that work comes to fruition. For a whole village of people, BTTI's first "Gypsies in the Palace'' was like our own personal peach tree in bloom, where everyone got something sweet in return for their cultivating.
But don't just take my word for it. On a call in mid November, a BTTI ambassador summed up the Gypsies event with one word: "homegrown." That word has popped up from the performers who played, from our guests, and even in discussions among the crew. There's no way to pinpoint a single factor that could make an event feel homegrown, except for the right combination of a whole number of details--the right performers, the right sponsors, the right team, and amazing support from the Key West community.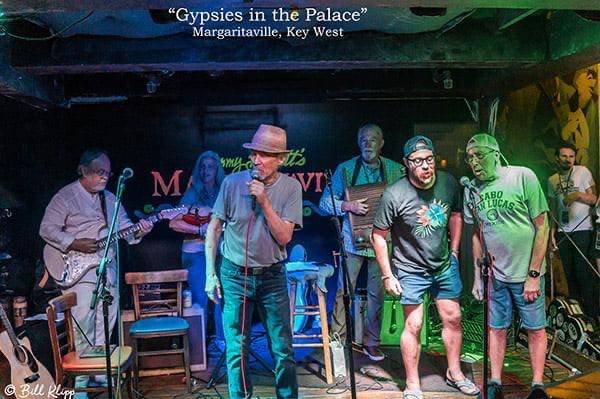 Margaritaville was the perfect venue and the staff took wonderful care of us, making drinks and supplying a steady stream of cheeseburgers, chicken fingers, lobster mac and cheese, and other goodies. Guests on the balcony got to mingle with legendary former Coral Reefers like Vaughn Cochran, Roger Bartlett, road manager Bob Lieberman, not to mention Keith Sykes. They were joined by awesome contemporary performers like Kingdom Jasmine, Steven Taylor, B-Man and Mi-Shell, and Boomer Blake. The combination of new and classic talent definitely struck unsuspecting folks who meandered into the dining room downstairs. At one point during one of Roger Bartlett's exuberant sets, a lady with cotton-candy hair offered a standing ovation. She approached the stage and they exchanged a few words as Roger beamed, clearly appreciating the woman's praise. I'm not sure there was a dry eye in the house as Keith Sykes performed a heartfelt rendition of his song, "Coast of Marseilles." He was joined afterward onstage by all of the artists and the leader of the BTTI Crew, Dan Smith. It was truly a pleasure to see a whole community come together in an effort to preserve and honor the music and history we all love.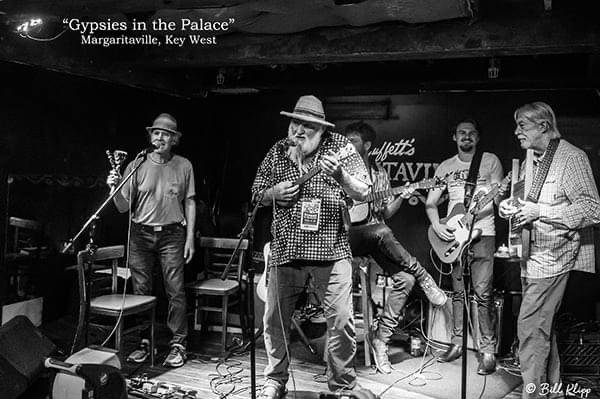 It's impossible to capture all the wonderful conversations and experiences Gypsies offered in just a few paragraphs. Keep an eye out in the coming weeks for posts dedicated to particular artists, their performance at Gypsies, and their work. We're already well under way in the planning for Gypsies 2022, so those snapshot posts will fill that void until then. In the meantime, we hope to see you soon back on the island!
---
"The Lost Verse"
Rebecca Van Horn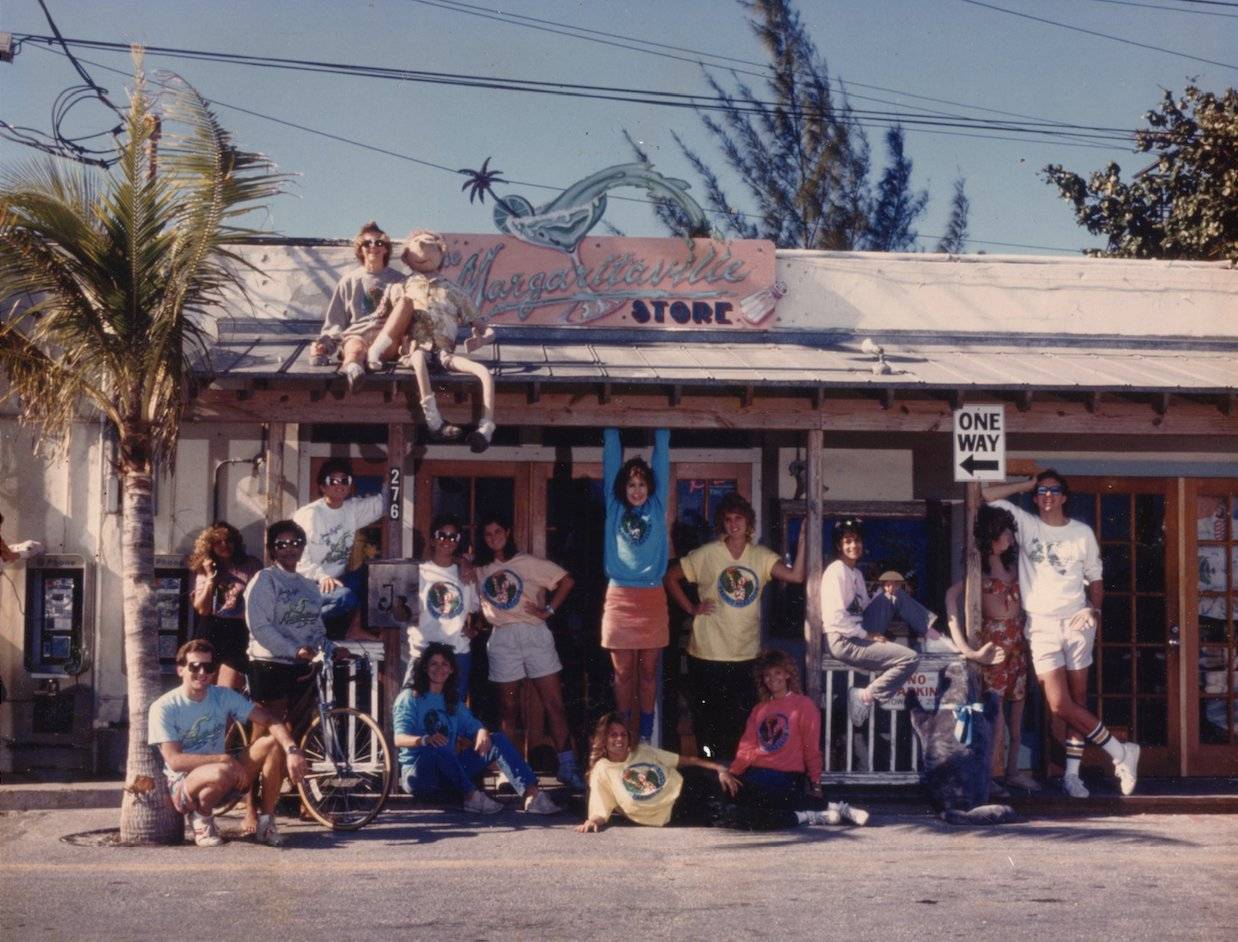 I have no doubt that you know every line of "Margaritaville." You probably also know the lost verse of that song, which didn't make it onto the original recording. For those who might not have it memorized, it goes:
"Old men in tank tops, cruising the gift shops, checking out chiquitas down by the shore, Dreaming of weight loss, wish they could be their own boss, Those three day vacations become such a bore."
Like the rest of the song, this verse pokes fun at a certain type of tourist and suggests a tone of melancholy lost on many listeners. The Original Margaritaville in Key West is in itself a sort of lost verse in the world of corporate Margaritaville because it maintains the authentic, gritty, irreverent sensibilities of Jimmy Buffett's early career in Key West. Though the atmosphere and authenticity of the KW Margaritaville is occasionally lost on its brand peers of hotels, eateries, booze, beer, clothing, frozen shrimp, etc., it is not lost on locals or visitors. It's a regular spot on the rotation of eateries for the BTTI crew and even amidst the crowds on Duval it's a short walk from our store front at 627 Eaton Street. For this reason and many others, it is the perfect venue to host our first major bash in Key West, "Gypsies in the Palace." It just feels like the right place to welcome an audience from all over the nation to hear musicians who are keeping the spirit of Key West songwriting alive.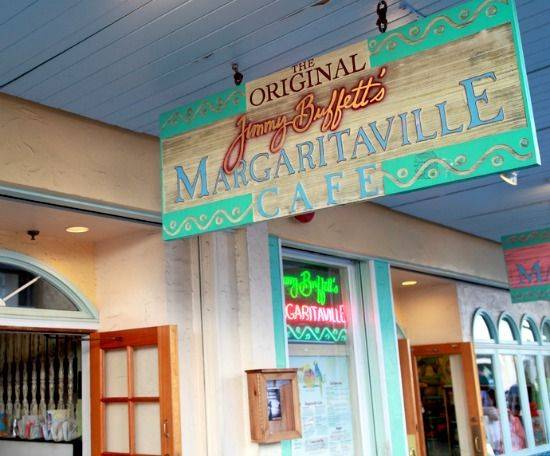 My first trip to Margaritaville in Key West came quickly on the heels of visits to other legendary locales on the island, and it definitely earned its place among them. I knew before my arrival that I would be entering a place filled with Key West lore, not to mention a significant amount of artifacts spanning the duration of Jimmy Buffett's career. We were warmly greeted by a server who knew Dan by name and we got a table near the front mural of JB's larger-than-life face. We put in our orders and meandered upstairs to check out the balcony that we would designate as "Gypsies'" VIP space. It has a perfect view of the stage at the back of the dining room, a stage where JB has frequently made unannounced appearances, even as recently as last year. The balcony and the dining room are decorated with memorabilia, photographs, and posters you just can't find anywhere else. Plus, there were no golden statues of broken flip-flops in sight. Back at our table, our food arrived quickly and in generous portions--I could not finish all of my fish tacos or the beans and rice they came with. I did manage to scarf down all the conch fritters in reach, which I felt were a strong contender with those from B.O.'s Fish Wagon. From the decor to the food to the fellow patrons, there is something about this particular Margaritaville that doesn't force an air of artifice.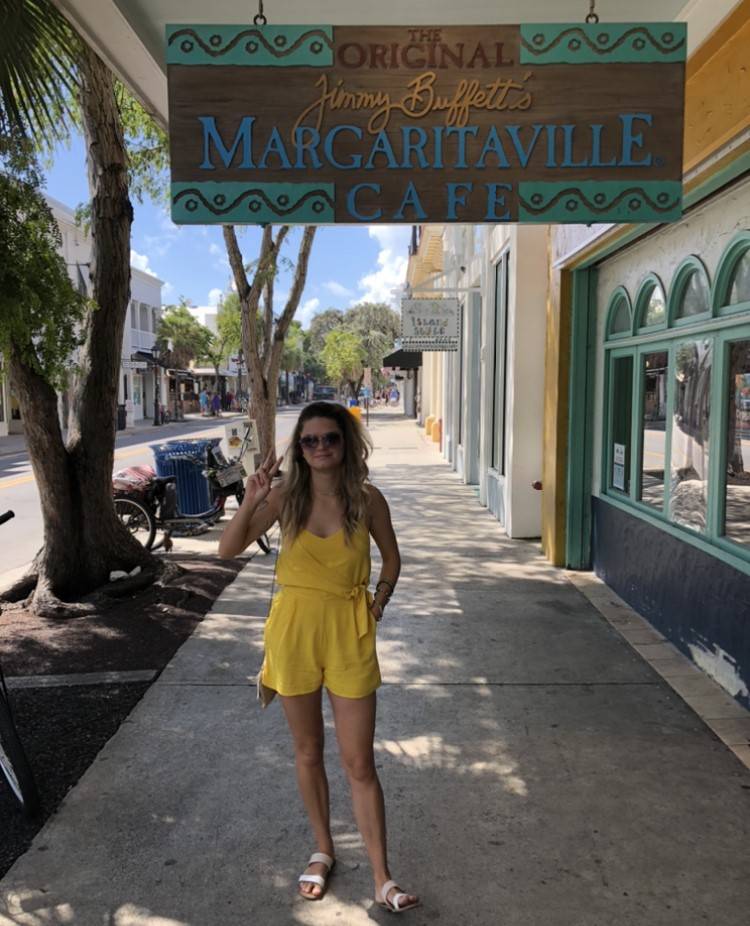 While the Key West Margaritaville is the flagship location for the brand we know today, it wasn't actually the first iteration of the Margaritaville concept. In fact, the place that debuted the idea of Margaritaville as an eatery opened in 1984 in Gulf Shores, Alabama, and was called "J.B.'s Margaritaville." The first Margaritaville in Key West opened under the supervision of Sunshine Smith in January of 1985, selling t-shirts and merchandise, but not food or drinks. That first store was located in Land's End Village and later moved into its current digs at 500 Duval in the Kress Building, where it expanded to a fully-fledged restaurant, store, and concert venue. David Wolkowsky, a mastermind of Key West development in his own right, sold that property to Buffett under the condition that he could occupy a rent-controlled apartment for the duration of his lifetime. Wolkowsky did so until his death at age 99.
Not all the transactions surrounding the store or the brand were so streamlined, however. In the 1970s and 80s, before Buffett fully capitalized on the brand himself, a legal battle raged between his camp and business which sought to use "Margaritaville" in their own advertising campaigns. Today, in the age of celebrities branding their own clothing, cookware, baby products, furniture, make-up, interior wall paint, pet food, and everything in between, the staunch opposition Buffett's legal team faced seems over zealous. History since that landmark case has made the following statement, excerpted from a legal document filed against Buffett's camp, seem foolish. It reads:
"An equally absurd claim to rights from Opposer's [Buffett's] claim that restaurant services are somehow a natural field of expansion for entities that publish music. If a nexus exists between songs and restaurants, Opposer could claim an equal nexus between songs and the tangible items of the universe."
So far, there's been no claim to the "nexus of all tangible items in the universe." Instead, there remains Key West's desire to keep everything within its borders a little quirky, a little irreverent, and fundamentally unique, including the heart and soul of a billion-dollar brand.
We hope you'll join us in singing--and seeing--the lost verse in November! Plus, you never know who else is going to show up.
---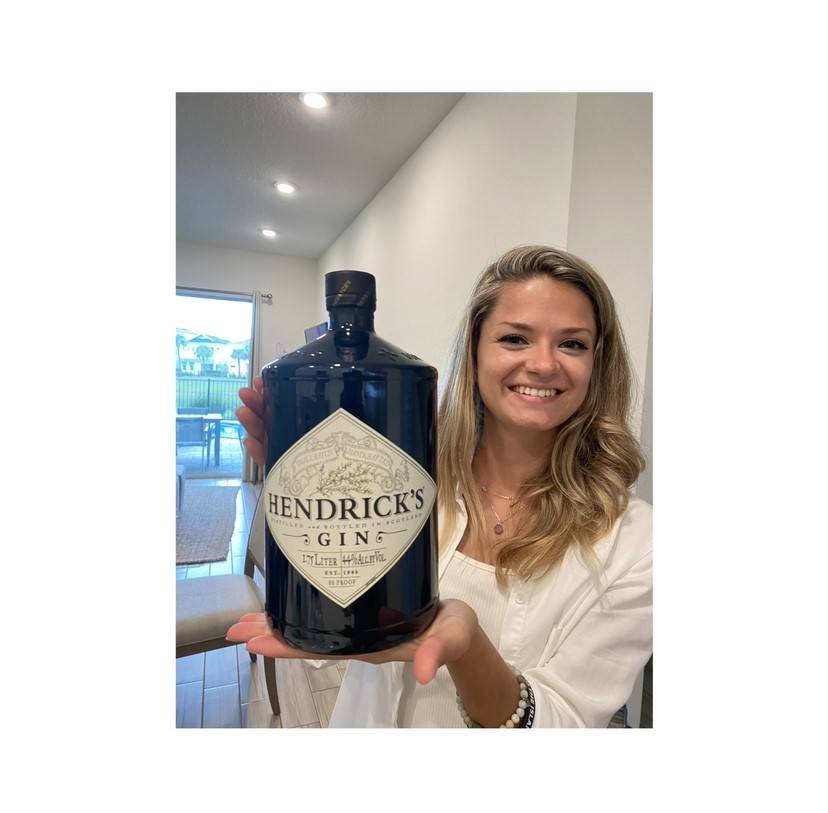 "Where's My Per Diem?"

Rebecca Van Horn


No matter how much time passes between meetings of the BTTIS Crew, you can bet that every time they get together there's gonna be good food, good drinks, and a lot of fun. The Crew was able to convene over Labor Day weekend at Margaritaville Resort in Orlando; it was actually the first time Dan, Bill, Anthony, Jay were in the same room without a straggler getting beamed in from thousands of miles away. Dan had reserved a four bedroom cottage with a pool and "hot" tub that all of us would share over the course of the weekend, and we could not wait to get our three-day house party started as soon as we all touched down in Orlando.
Day 1:
Once everyone arrived at the house, we wasted no time in getting unpacked and heading straight back out for snack essentials and alcohol. Once we got the necessary provisions, we started off with a board meeting to get the most pressing topics out of the way so we could enjoy a leisurely breakfast the next morning (we thought we might need it). In addition to important BTTIS items of business, I had my first yo-yo lesson from the yo-yo master and Head of the Ambassador Program, Anthony "Twanmon" Monaco. We took a mid-afternoon dip with some poolside refreshments and got ready for some tasty seafood and live music at the Wharf. After dinner with the Crew and Twan's better half, Tiff, we met our friend Mark at the bar in Margaritaville for live music and drinks. After many oysters and lots of beer, we decided we wanted to do some singing of our own, so we moved the party to our house. The guitars were immediately broken out and our neighbors were serenaded with Jimmy Buffett songs long into the night.
Day 2: 
After the guys had breakfast at Denny's we got started right away on the morning's work, reworking the website, revamping programs, planning next events, brainstorming designs, and carefully considering our next meals. The most important orders of business dealt with brainstorming new charities to support whose missions aligned directly with who we are at Back to the Island Society. We were so excited to get in touch with the folks at Surfrider Foundation Florida Keys and Reef Relief to get involved in helping their inspirational work in the Key West area. In fact, we decided our own mission statement could better describe who we are, and we all loved what we came up with: "Back to the Island Society's mission is to preserve and honor the history, culture, and lifestyle of Key West. The Society strives to contribute to the local community in the spirit of Key West's official motto: "All Humans are created equal members of one human family."
 Once we spent a few hours putting our heads together, the five of us crammed into Anthony's SUV and drove to Boggy Creek Airboat Adventures for a ride through the swamp. We were hoping to see some gators (which we missed because of the hot weather) but we left with a surprising appreciation for the unique serenity of Lake Toho.We passed on the BBQ gator bites and found a Mexican place that served kickin' tacos. We knew we had found the right place when the mustache on the statue of "El Jefe" outside was identical to Dan's. We spent the following hours trading playlists, telling stories, and tying up loose ends from the morning meeting. Dinner and drinks were spectacular at Charley's Steakhouse, which was a fittingly special way to celebrate our final dinner together. I had an incredible portion of wagyu steak and we were convinced we would make this a regular thing if our pockets could stand it. Afterward, There may or may not have been another late night singalong.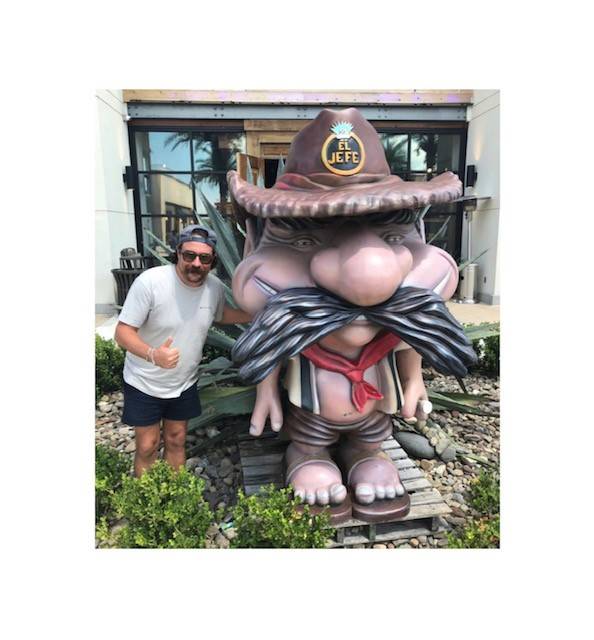 Day 3:
I was overruled: instead of Cracker Barrel we ended up at a Perkin's for a pre-departure breakfast. Other diners were definitely annoyed at our boisterous group so early in the morning,  swapping stories about our favorite concert experiences. Even after breakfast and one last dip in the pool, we were nowhere near exhausted of talking music and felt sad to pack up and clear out the cottage. As we got ready to say our goodbyes to each other and to Margaritaville, we set our sights on the next big BTTIS bash. "Gypsies in the Palace" will be the sort of party that we'd want to go to ourselves, which is why we'll all be there. We hope to see you, too!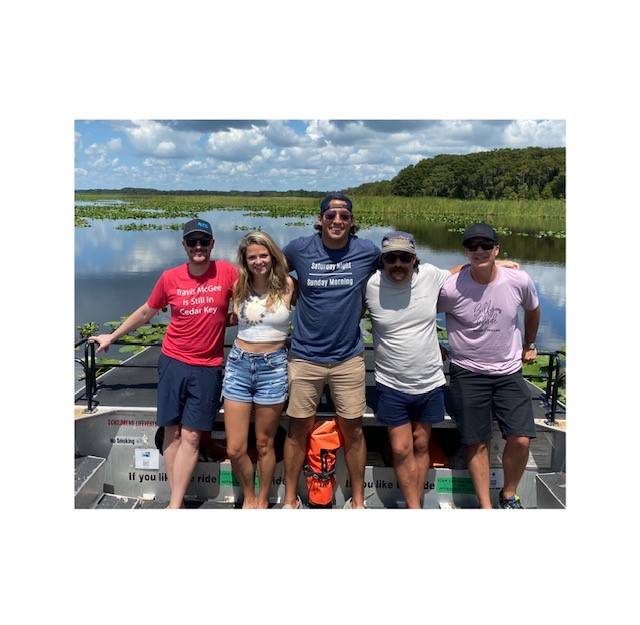 ---
At B.O.'s Fish Wagon on the corner of Caroline and William Street in Old Town Key West, there is a water bowl in the sand that reads "No Poodles." It's a telling statement about the type of clientele that B.O.'s, and Key West for that matter, seeks to attract. At the risk of indulging in stereotypes, it's just not the place for the poodley type. B.O.'s offers no porcelain plates or expensive silverware that poodles (and maybe their owners) might prefer, and there's no dress code that would signal fine dining. In front of the eatery stands a rusted out, stickered up, post war GM pick-up which might have had a wily mutt hanging out of the passenger window in its heyday. Let's be clear, I'm a dog lover and I don't discriminate; a desperate weather-beaten poodle would likely get a slurp from the bowl when it really comes down to it, and their owners probably wouldn't be kicked out upon entry. Still, like the very best of Key West and its inhabitants, B.O. 's suits a visitor who doesn't revel in primness, pretense, or ego. Instead, it offers scrumptious, no-frills food that summarizes Key West's eccentric yet down to earth culture.
"I'm a dog lover and I don't discriminate; a desperate weather-beaten poodle would likely get a slurp from the bowl when it really comes down to it"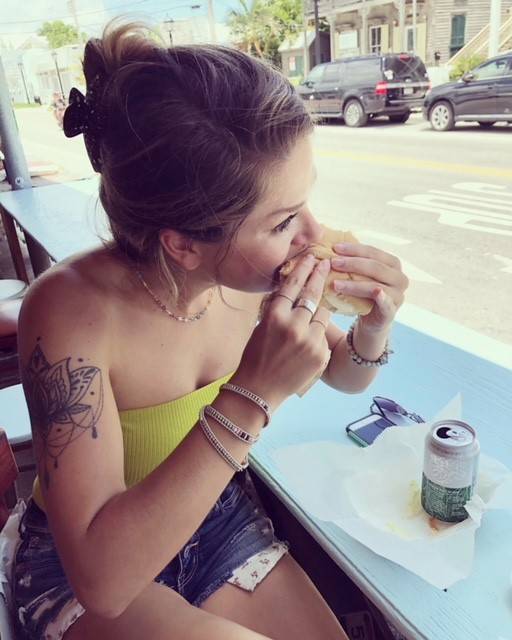 For decades, customers on two and four legs have traveled from near and far for a bite of Buddy Owen's fresh seafood sandwiches. In a clip of Good Morning America from 1986, Jimmy Buffett stops by to greet Buddy and to order a fried grouper sandwich. He emphatically states "it's the best on the island," which is a claim that still holds up in 2021. If you visit today, as Buffett still does, you'll find the shack in a slightly different part of town from its original location, which Buffett teasingly mentioned operated without a license. In keeping with the culture of Key West legends, Buddy Owen has done things his own way. In addition to Buffett, B.O. 's has attracted reviews from the New York Times, Bobby Flay, and multiple thousands of customers. It's a legendary Key West institution in its own right, so I had to visit.
    Despite feeling a bit motion sick after a bumpy flight, I knew B.O.'s would be my first stop upon arrival. I deplaned at EYW and scooted directly there for conch fritters with key lime mayo, a fried soft-shell crab sandwich prepared "all the way," and key limeade. The fritters contained a perfect conch to batter ratio and were delightfully balanced with seasoning. My sandwich had all the right elements--bread that was soft and chewy, crispy fried crab, fresh lettuce and tomato, and tangy, doctored up mayo. The sweet tart limeade was clearly homemade. I dined alongside all breeds; there were families with kids, grisled shrimpers and fishermen, tipsy tourists, plus part of the BTTI crew, Dan Smith and Jay Zuck. As I mulled over the metaphorical meaning of "No Poodles" scrawled on the nearby watering hole, I realized it might be a kind of alternative slogan for Key West. While there's no doubt that "All human beings are created equal members of one human family," there just might be some who prefer the island's vibe more than others. Key West and B.O. 's invites you to come as you are and appreciate others as they are, leaving little room for fussiness of a more picky breed. I left B.O.'s with quality food for my belly and food for thought: "Be more like a mutt--no poodles."
---
"The Whole Peanut"
Rebecca Van Horn
July 2021
When you visit Key West, take the approach I like to call the "whole peanut." Regulars at the Chart Room Bar know that you can help yourself to boiled hot dogs, fresh popcorn (whose scent wafting upwards is the only breadcrumb for those still lost in the maze of resort-land), and whole, still-shelled peanuts. Your first instinct might be to sit down with your drink and shell those peanuts, but you'll find their taste and texture sweeter, more complex, and more satisfying with the shell on. Just like Key West and the legends who made it their home, the Chart Room's peanuts are best consumed with their grittiness and toughness intact.
The Chart Room is a square cinder block building no larger than an average-sized living room, hidden within a glittering resort that never existed when its most famous patrons played and partied there. In the 1970s, you would have reached Jimmy Buffett or Hunter S. Thompson only by calling the Chart Room's landline. Jerry Jeff Walker and countless other undiscovered musicians performed there, and more than a few nefarious transactions went down inside. Phil Clark, the pirate bartender who, according to Jimmy Buffett, "put words in [his] vocabulary that later became songs and stories," contributed to a culture predicated on making your own rules. Then, like today, this bar offered no neon-colored spiked slush, no tropical-themed koozies, no gimmicks, and no bullshit. Instead, to the lucky few who venture off the tourist-beaten track, it extends the roguish charm and raucous welcome that made Key West a haven for rebels, dreamers, and Nautical Wheelers.
My first trip to the Chart Room a few weeks ago provided the tidy, goober-themed metaphor for a mindset I've always admired. I arrived in time for the locals' happy hour with ⅖ of the BTTI crew; Dan Smith and Jay Zuck. John the bartender had Dan's drink ready upon his arrival, the same order as Jimmy Buffett's back in the day. As I cracked my peanuts over a limey G&T, Dan suggested I try them with the shell still on--turns out they're better that way. I chatted with Gary across the table, a local radio host who lives on his boat in the Key West harbor. Days later on his radio show, I mentioned in passing how much I love the stickers of Key West's official philosophy: "All people are created equal members of One Human Family." Gary later tracked me down and surprised me with three of these stickers for my own collection. I met local musicians and radio hosts B-Man and Mi-Shell and debated with B-Man about the best break-up tunes. Steve, bartender John's landlord and owner of Key West Taco in the 70s, stopped in to shoot the breeze and share memories of his late nights in the Chart Room with Key West legends. These are the people who keep alive the unconventional Key West culture that inspired and nurtured artists like Jimmy Buffett, Jerry Jeff Walker, Hunter S. Thompson, Tennessee Williams, Truman Capote, and Ernest Hemingway. It seems to me that the "whole peanut" approach has always existed in this place.
    A visit to the Chart Room is a move past the commercialized, sanitized, curated version of Key West. The locals who congregate there today have been doing so for decades, and recount to eager ears the history they witnessed. Whether you take this "whole peanut" approach to Key West itself or just to the work of the legends who put it on the map, you'll discover something authentic and expressive. Even better, you'll find a bunch of friends in a community of people looking for the exact same thing.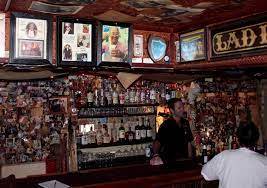 ---